Death can lead to a lot of reflection.
We live in a world where tragedies due to mass killings are common. Las Vegas and the people impacted by the recent shooting are still weighing heavy.
Iconic men an women who help shape our culture may seem immortal, but each has a limited time on earth. As we get older we see more and more iconic superstars pass away. Their lives may be over, but their music lives on.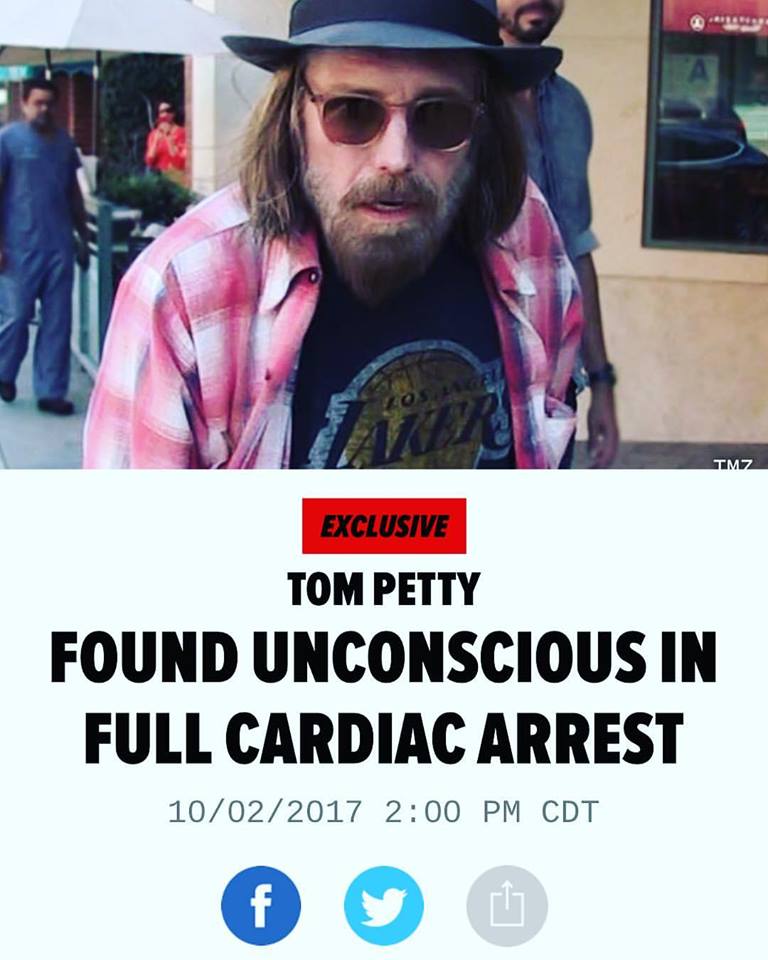 Tom Petty was not an artist I grew up with. During my teen years I listened exclusively to Christian music. I love the music that helped shape me, but I missed out on some pretty epic music. In college I met Monica and she was a big Tom Petty fan. She went to multiple concerts. I scoffed at her love for his music. He was one of her favorites and based off my little Christian bubble I didn't understand just how iconic he was. That would change.
One of my all time favorite movies is Jerry Maguire. I learned a lot of things from that movie. One of them was a subtle, but important lesson. Tom Petty created the soundtrack for solo car rides.
I had a Jerry Maguire type moment five years ago. I had just left a job I loved to plant a church. It was the first day out on my own. It was before we had an interest meeting where over 90 people would show up. It was before we prayed for a free church building and saw God answer our prayer. It was before we had people, some money, and before I had a paycheck. It was a scary time in my life.
I was driving in my Honda Civic with my entire office in my car. The trunk and backseat were full of files, supplies, and memorabilia from my former office. I'm driving down Jefferson Avenue and blasting Tom Petty's Free Fallin'. True fans may scoff at this being my favorite song because it is his biggest hit. But that song, in that moment, connected with my soul.
I hate death, but it's a reality that we all must face.
I hope to live a long life, but the truth is no one knows the expiration date of their life. We often live like our time on earth is infinite, but then death reminds us just how limited our time truly is.
Because I am not guaranteed another hour on this earth I want to make sure that every encounter I have is a great last visit.
When I blow it, I want to say sorry quickly. You never know what your last words to someone will be. Make em count.
I don't want to go to the grave with anything left unsaid. I don't want to assume the people in my life know I love them. I value the word "love" so I don't throw it around cheaply, but to those in my life I give the word extravagantly.
In our minds we think like we have forever. It's why we prioritize worthless things, and put off the important stuff of life. It's why we don't write wills, struggle to save for retirement, and spend time on social media while we should be present with our loved ones. We view the important things as having a lifetime, but prioritize temporary moments because we are afraid to miss out.
Teach us to number our days, that we may gain a heart of wisdom. Psalm 90:12
When it comes to time we either think we have an unlimited supply and put things off, or we act like we don't have enough to do what really matters.
Each of us have 24 hours each day we get to choose how we spend every second of it. At the end of our lives what we will care about the most is how we loved God and loved people.
Teach me to number my days.
Every human is born thinking they are the central character in the story of life. We are born selfish. We look at our moments as paragraphs in our own novel, but in reality our novel makes up a chapter of a bigger story called life.
You play a part in the story.
The way you react plays a part in the story.
The way you treat others plays a part in the story.
We all have blind spots because we forget that our part of the story is a part of a greater story.
The way you interact with people matters greatly.
It's easy to get hurt when you think you are the central figure to the story. When you don't get your way other people become expendable. Their feelings don't matter. I've had to apologize way too many times after overreacting and sending an email while I was still angry.
It's easy to hold onto grudges when you are the central part of your story. Even though the other person moves on we think that holding onto a grudge will somehow get them back.
"Do not let the sun go down while you are still angry." Ephesians 4:26
We keep anger, resentment, and hurt because we ultimately think we have an infinite amount of time to get over it. You don't. I don't. What if the person you are angry with dies today. Have you done your part to make sure forgiveness is offered?
If the story of life is ultimately God's story then the chapters are made up by people. Some stick around for a lifetime. Some come and go. Some won't like you. Some will hurt you. Even if you were perfect someone would crucify you. We aren't responsible for how others live their story. We are responsible for writing our own chapter.
It's why loving God and loving others is so important. When our story is over we leave a legacy of how we treated others.
True story: an 18 year-old boy who was being sentenced before a Judge who was a personal friend of his fathers. The judge said, "You ought to be ashamed of yourself, disgracing your family name, causing your parents such anguish. Your father is an upright citizen in this community. I have personally served on numerous committees and I know his commitment to the welfare of our city. I consider your dad a close personal friend, so it's with deep regret that I sentence you for this crime." The boy hung his head with embarrassment as he listened. Then he asked if he could speak and said, "Judge, I don't mean to be disrespectful or make excuses, but I envy you. There were many days and nights I wanted to be my father's best friend. There were times I needed his help, with sports, with school, with girls. But my father was gone a lot—probably serving on those committees with you or playing golf. I've always felt that other things were more important than I was. I truly wish I knew my father like you do." The judge was so stunned, he reversed the sentence and ordered that the boy and his father spend time together every week. The father was humiliated, but did it, and it was the turning point of his son's life.
God, teach me to number my days.
Today I'm thinking about death. More specifically I'm thinking about my life before death. I play a part in the story. Life is short, I truly want to live it well.