I spent all of last week on a cruise to experience my all time favorite band, dc Talk, reunite for the first time in 15 years.
The Jesus Freak Cruise.
This isn't a cruise for everybody, but it was perfect for me. To say I loved dc Talk is an understatement. I handed them a personal invitation to my wedding. Our wedding featured two of their songs and my first dance with my bride was to the dc Talk song, Godsend. They didn't come to my wedding, but that's not the point. The point is I handed my all time favorite band an invitation to my wedding. I loved dc Talk.
When I heard they were reuniting on a cruise I knew it was God's will for me to be on that boat. You see, It's my will, and I'm not moving. 'Cause if it's your will, nothing can shake me.
We made two stops in the Bahamas. The water was amazingly blue. I'm not much of a beach guy, but I could have stayed at this beach for days. Mainly because TobyMac's (dc Talk member) family was swimming right next to us. We may or may not have unintentionally helped one of his kids steal a paddle boat in the Bahamas. His son and one of his son's friends hopped on the boat and couldn't get it out to water. We assumed they had permission. Monica and I pushed them into the water only to see a paid employee start yelling at them and chase them down. Oops. Where were his parents? No, seriously. Where were his parents. I really wanted my picture with his dad. I digress.
I've been on three cruises and I've never thought the food was amazing. When you make lots of food for lots of people the quality goes somewhat down. What makes cruise food great is not the quality, but the amount. They had a 24 hour buffet with pizza and cheeseburgers. On Wednesday they offered a Mexican buffet at 11 PM. What the what? On all the cruises I've been on I've said that if the food was a restaurant in my area I would not pick it, but I love the fact that I can have a piece of pizza with a side of cheeseburger.
And then we experienced dc Talk reunite. It was glorious. I would even say it was Heavenbound. The band is not just incredibly talented but they truly love Jesus. It was a Supernatural experience.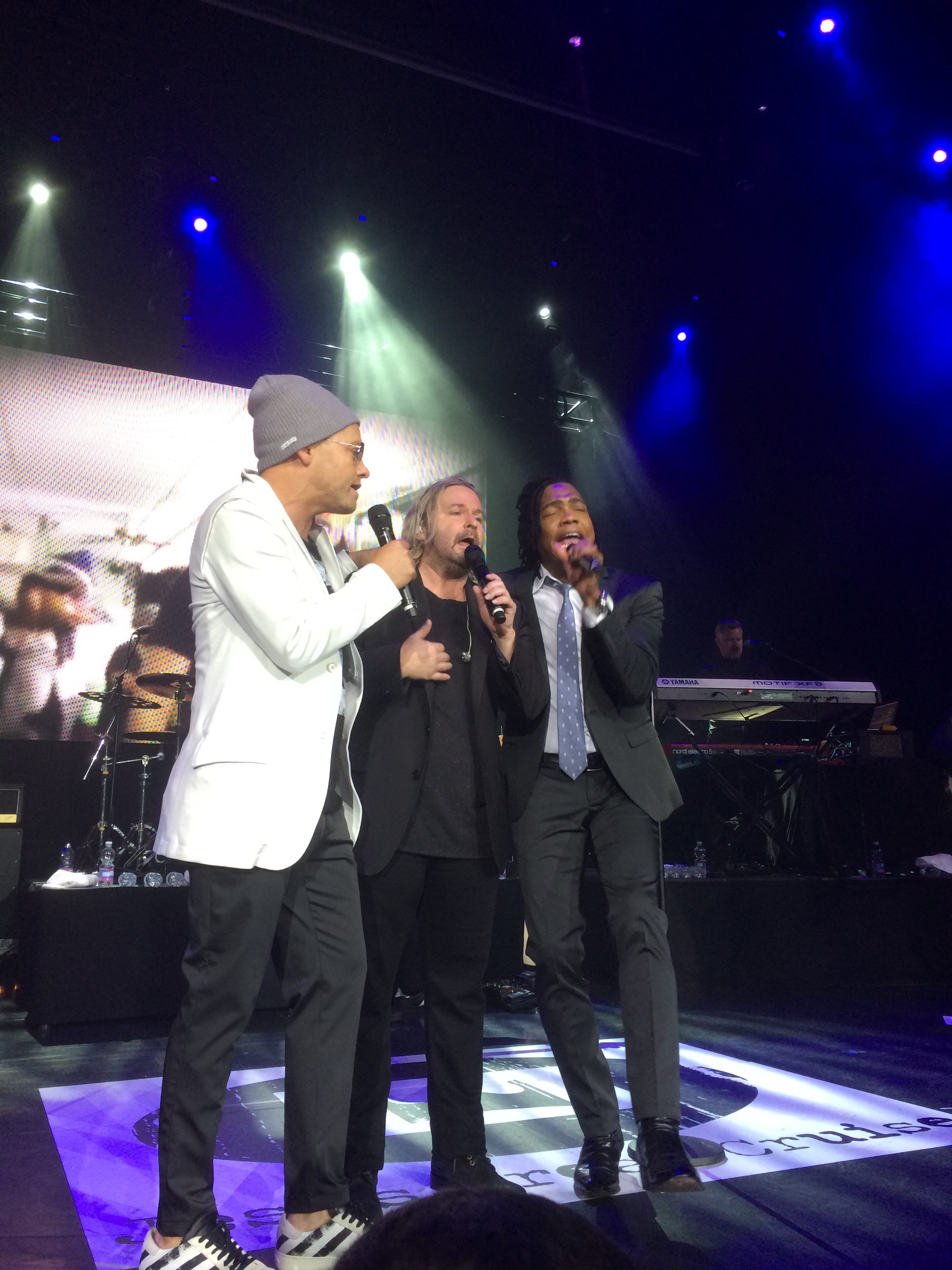 It's one thing to listen to dc Talk's music, it's another thing to hear them Say the Words, "Jesus Freak." I was so excited I was Spinnin' Round.
It was an amazing experience! So Help Me God if I complain about being on an amazing boat that featured three pools, room service, and my all time favorite band singing, "Jesus Is Still Alright."
Today it's Socially Acceptable to complain. We are an entitled people who complain easily while resisting to Say The Words, "I love you."
This became evident when we stepped off the boat.
We are a part of a Facebook group for the Jesus Freak Cruise. From the second cruisers got cell reception they acted as if it was  their Time To Jam by complaining about the cruise.
There were no meet n greets.
The food was gross.
dc Talk only did one concert.
The boat was too big.
The boat was confusing to navigate.
The boat blah blah blah…
What Have We Become when we complain about a boat that takes us to paradise with a reunion of our all time favorite band?
It's Killing Me to read all the negative comments.
What I wanted to write to every negative comment was, "My Friend So Long." We saw TobyMac take a Dive into the crowd just like he used to before the band took an InterMISSION.
What?
The Truth is this experience was a Godsend. Can I Get A Witness?
Between You And Me I thought this cruise was full of awesome. I felt spiritually challenged, motivated, and Into Jesus.
I guess some people have to learn The Hardway because they turned an amazing experience into A Treason At Sea.
The cruise wasn't perfect. There are a lot of things that I would change. But don't let what was wrong destroy all that was so right.
A phrase that I say often is, "Your attitude determines the quality of your destination."
A negative attitude can ruin paradise.
A bad attitude can cause an amazing destination to feel awful.
If you want a great destination you have to Like It, Love It, Need It. It doesn't mean everything will be all rainbows and unicorns. Sometimes things don't go our way. Sometimes there are inconveniences. Some times I Don't Want It. What is It? Whatever is in front of me. Sometimes it's going to church, sitting in a meeting, watching a show with my wife that doesn't interest me at all.
Day By Day we have to see things through our Mind's Eye and put the Red Letters of Jesus words into action.
I pray that God will Consume Me so I will see things like He does. I pray my heart will break for things that really matter. I pray I will find the positive in less than positive situations. I pray that I won't miss out on something amazing because of my attitude.
A lot of you reading this didn't go on the Jesus Freak Cruise. But I believe you can relate.
In life you will have to do things you don't want to do. You will not always be in control. You won't always get your way. You can either let your attitude make the situation worse or better.
Your attitude determines the quality of your destination.
If you grew up in church you are probably familiar with the time where Jesus fed 5,000 plus people. After a long time of teaching Jesus asked His disciples how they were going to feed such a large crowd. In the Gospel of John we read that Jesus asked this to test them. He already knew what He was going to do.
Here's how they respond.
Philip answered him, "It would take more than half a year's wages

 

to buy enough bread for each one to have a bite!"

8 Another of his disciples, Andrew, Simon Peter's brother, spoke up, 9 "Here is a boy with five small barley loaves and two small fish, but how far will they go among so many?" John 6:7-9
Imagine standing with Jesus and limiting the possibility of what He can do. You've seen Him do amazing miracles. Nothing is impossible and yet the disciples start off with what they don't have. They start with the impossible.
They start from a negative disposition.
We don't have enough food. We have a little, but "How far will they go among so many."
A negative attitude misses the fact that God is in the business of doing a Nu Thang. He Works. Things Of This World are passing away. When something negative is in front of us we need to Take It To The Lord. You feel me on this? If so shout out, "Word 2 The Father."
Don't miss out on what God can do because you focus on what God didn't do. Your attitude determines the quality of your destination.
You will go through trials. You will have bad days. Time Is ticking away. It's time to become Free At Last from negativity.
Do you tend to be more negative or positive? What is a situation where you made things worse by your attitude? Did you catch all the references to dc Talk songs in this post? There are 36 references to song titles and or album titles.