en·ti·tled
inˈtīdld,enˈtīdld/
adjective
believing oneself to be inherently deserving of privileges or special treatment.
As Americans it is easy to live entitled.
As a Christian it should be incredibly difficult to live entitled.
Sometimes the America dream clashes with the message of Jesus.
One of the ways I see entitlement pour out on others is on the Internet. I spend a lot of time on the Internet. I like it. I think it's a fun place. I also think it's full of amazing information. What used to take thousands of dollars in buying commentaries now can be found with a few clicks on the Google.
The Internet is a place to share ideas. Not everyone will agree with your ideas. We all know that. And yet when a differing idea is shared we feel entitled to comment.
What baffles me is how often, in Christian circles, people feel entitled to share their opinion. Let me give you a couple of examples of what I'm writing about.
Perry Noble is the former pastor at Newspring Church in Anderson, SC. Last year he was removed from leadership for a problem with alcohol. He has since repented, gone to counseling, and is now taking the next steps for his life. For this season he is consulting pastors. Now, no one is forced to use his consulting. It's a service you have to pay for. It's not being forced on anyone. It's his business and so he is getting the word out about it. Like or don't like it. But look at the comments from his post.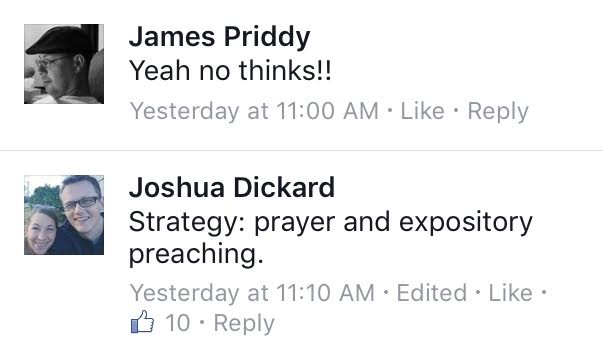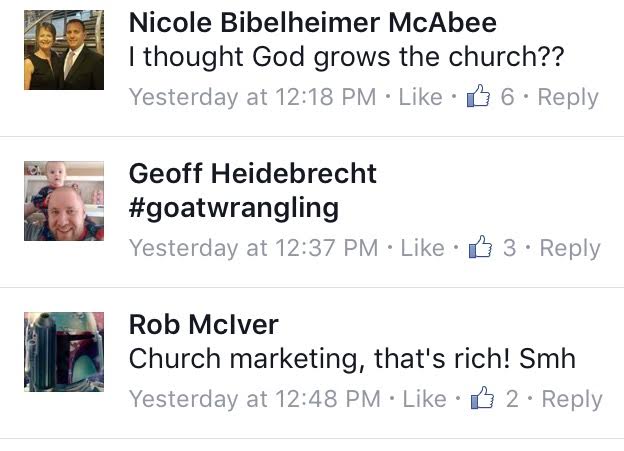 Now, I have a lot to say about this, but I want you to see the point I'm making so we can learn from it. Why does someone feel entitled to share their opinion on his post? It's not a post asking for opinion. It's okay to disagree. It's okay to unfollow. In fact everyone on this comment thread should unfollow Perry if they haven't already. The comments on this thread are not going to convince anyone not to use Perry's services. They are not helpful in the least. Those that like Perry will use his coaching. Those that don't…comment.
Here's another example…
Al Mohler is the President of Southern Baptist Seminary. I don't align with all of his thoughts and opinions. I think he is very smart and I enjoy reading his posts even when I don't agree. He recently had a post with his opinions on a problem he sees with modern worship in church. In his opinion the problem is a lack of expository preaching. I do not agree with his outcome.
Mainly I do not agree because I feel his assessment comes across as "us vs. them." I grew up in an expository preaching church and our church still had issues. We still had pastors who had affairs. We still had people who were not engaged in worship. We still had people who were spiritually anemic. If you love expository preaching than love it, but don't believe it makes you any better than someone who preaches using a different method.
In case you are not familiar with this term, expository preaching is detailing the meaning of the text. There are lots of ways to do this. I try my best to preach expository sermons. I find the best understanding of the original text and preach that. I start with the text and pull out the meaning to teach people in my church.
The point is Al Mohler's post is not something everyone has to agree with or disagree with. In the comments on his post the vast majority of people agreed with him. Instead of just celebrating what they liked about the article they felt entitled to share their opinions on pastors that they don't like and or mega churches. Now, the article had nothing to do with a specific preacher and nothing to do with mega churches. But the comments…See below.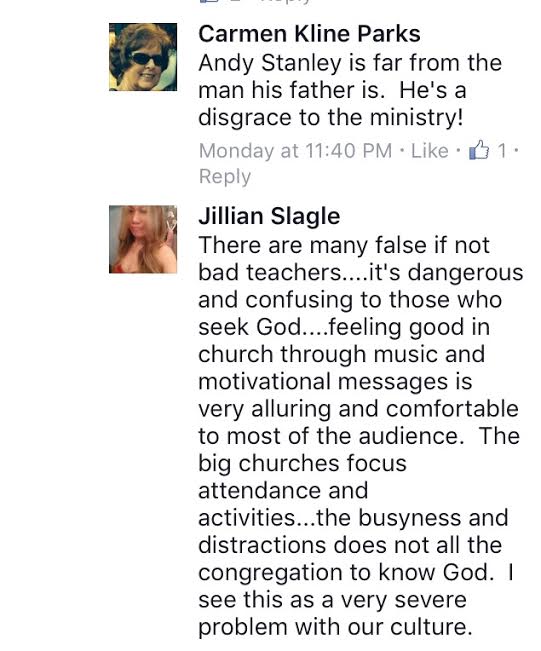 That was just two of the many examples where people felt it was their right to share their opinion. Their opinion didn't help the conversation. It didn't further it along. It didn't help anyone to think.
Okay, I have one more example. I could give more…unfortunately.
My all time favorite band is dc Talk. They took an intermission 15 years ago that turned into essentially a break up. Last year they announced they were getting back together. It's for a one time event on a cruise. People were not happy. People were very upset that it was not a new album or tour. I was mildly disappointed, but then I sucked it up and bought two tickets to the Jesus Freak cruise. I've waited 15 years to see them and if this is the way to do it then I'll be on that boat. It's the cheapest cabin on the boat, but I'm on the boat. I'm pretty sure it's in the section where they put the poor people on the Titanic. If you remember from the movie they closed that section off and didn't let people escape when the boat started to sink. That's the section of the boat we are on. I digress.
Well, it's been months since the announcement. Since then they update their page weekly with cool look backs at the band. It's fun. Sometimes it's rare concert footage. Sometimes it's pics. Sometimes it's a song lyric. It's a lot of fun to see if you are a dc Talk fan. On almost every post someone feels entitled to post their opinion about the cruise. From one of their latest posts…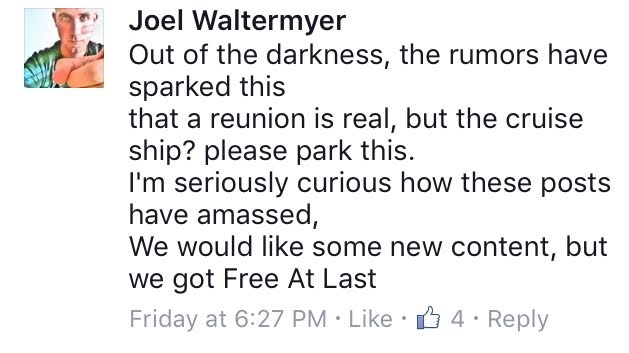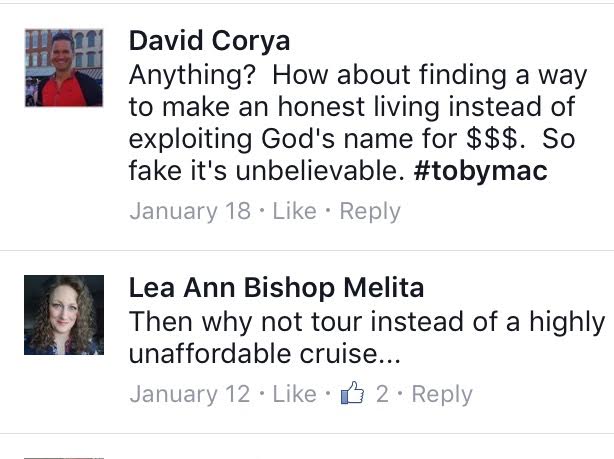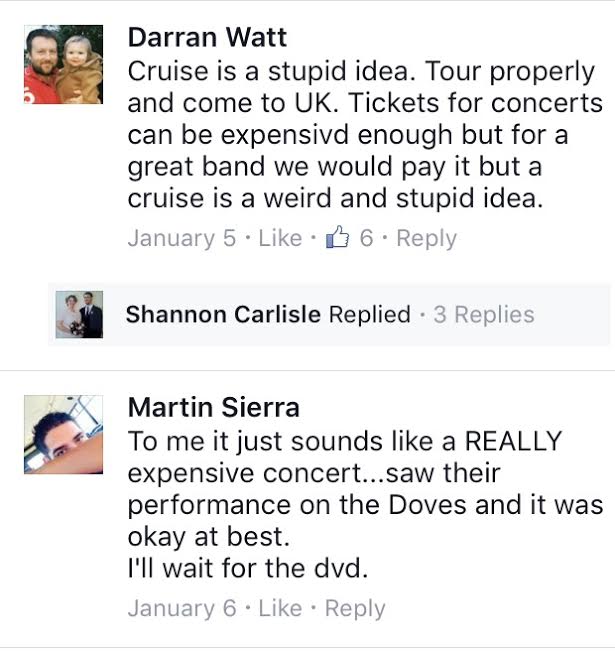 Not one of those comments is helpful. It's not causing anyone to think. They don't advance a conversation.
Now, the examples I gave above weren't about politics. They aren't posts asking a question or inviting a dialogue. And these posts aren't geared toward the unchurched. So…
It appears that a lot of American Christians feel entitled to share their opinion. It comes across that if they think something, whether it's good or bad, they have the right to share it.
I think that's more of an American idea than a Christian one.
"I appeal to you, brothers and sisters, in the name of our Lord Jesus Christ, that all of you agree with one another in what you say and that there be no divisions among you, but that you be perfectly united in mind and thought." 1 Corinthians 1:1o

"Bear with each other and forgive one another if any of you has a grievance against someone. Forgive as the Lord forgave you. And over all these virtues put on love, which binds them all together in perfect unity." Colossians 3:13-14

"How good and pleasant it is when God's people live together in unity!" Psalm 133:1

"Make every effort to keep the unity of the Spirit through the bond of peace." Ephesians 4:3

"A new command I give you: Love one another. As I have loved you, so you must love one another. By this everyone will know that you are my disciples, if you love one another." John 13:34-35
There is a time to disagree. There is a time to have hard conversations. There is even a system set up for us to confront other believers. It's found in Matthew 18.
As Christians we have to be really careful that our differing opinions aren't slandering fellow believers. Just because you disagree doesn't mean the other person is satan. We can disagree and still be friends. As a Christian we are called to higher standard. And that means when we have a differing opinion we aren't entitled to share it.
"I tell you, on the day of judgment people will give account for every careless word they speak." Matthew 12:36

"The one who conceals hatred has lying lips, and whoever utters slander is a fool." Proverbs 10:18

"To speak evil of no one, to avoid quarreling, to be gentle, and to show perfect courtesy toward all people." Titus 3:2

"So put away all malice and all deceit and hypocrisy and envy and all slander." 1 Peter 2:1

"Let all bitterness and wrath and anger and clamor and slander be put away from you, along with all malice. Be kind to one another, tenderhearted, forgiving one another, as God in Christ forgave you." Ephesians 4:31-32
The Internet can be an amazing place. It can also be a cesspool. It brings out the best and the worst in us.
But for the Christian, our comments are held to a higher standard. When we comment it should be full of grace.
I want to be a person that causes helpful conversations. If my opinion doesn't help then I don't need to share it. If I do have a different opinion, I will commit to ask questions to learn instead of forcing my opinions on others. And when I disagree I will believe that we can still be friends.
Be known for what you are for and not for what you are against. As a Christian you are for love, grace, kindness, encouragement, unity, gentleness, and pointing people to Jesus…even when you disagree.
What are your thoughts? When do you feel the most entitled to share your opinion online?