Going into 2017 I've seen multiple posts that reflect just how bad 2016 was. Have you seen any of these…?
2016 was pretty rough for a lot of us.
But the problem with focusing on how difficult 2016 was is that more than likely 2015 wasn't much better.  And there is no guarantee that 2017 will be either.
I'm starting to wonder if an amazing year will ever happen again.
I'm starting to wonder if it's not the year that's the problem.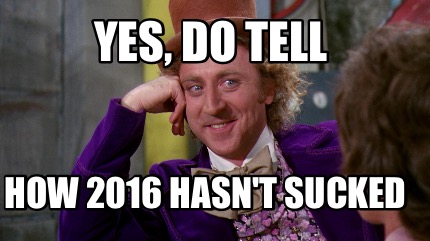 The reason so many of us have had a difficult 2016 is because the way our brains are wired. Every year brings it's fair share of trouble. That most likely won't change with 2017. What can change is how you and I think about our year.
According to Dr. Rick Hanson,
"Negative stimuli produce more neural activity than do equally intense (e.g., loud, bright) positive ones. They are also perceived more easily and quickly." The alarm bell of your brain — the amygdala (you've got two of these little almond-shaped regions, one on either side of your head) — uses about two-thirds of its neurons to look for bad news: it's primed to go negative.

Once it sounds the alarm, negative events and experiences get quickly stored in memory — in contrast to positive events and experiences, which usually need to be held in awareness for a dozen or more seconds to transfer from short-term memory buffers to long-term storage.

To put this in laymen's terms the brain is like "velcro for negative thoughts and teflon for positive thoughts." This is why one bad thing makes you say you had a horrible day. Our brains are somewhat broken in that we focus on the negative."
This is why we remember the negative things so much more than the positive.
I can't promise you 2017 will be all rainbows and unicorns. But I can promise that you can have an amazing 2017 if you choose to focus on the positive.
This goes against how our brains are wired, but it's the only way I know to break the cycle of entire years stinking. If you don't focus on the good you can guarantee that your brain will latch onto the bad of 2017 and it will stink before it even begins.
2016 was an incredibly difficult year for me. I won't pretend it was easy. My computer's memory got swiped and I lost all of my documents. My phone became full so I downloaded all of my pictures to Amazon Prime. The email for our prime account was changed and I lost over 2K pictures. A relationship ended despite my best efforts. This loss of a relationship weighed on me so heavily I started seeing a counselor. I had my first panic attack. They killed Glen on the Walking Dead. My kids went through a separate two week period where one of them peed their pants, and then the other one pooped their pants like they were 1 year olds. I was rejected by a literary agent because I don't have enough social media pull. Because of stress eating I have gained a record 50 lbs in 2017. There is more, but this is getting depressing.
But I will choose to focus on the good things that God did in 2016.
In 2016…
I started working as a contracted writer for ChurchBOOM. I love coaching other pastors and this has been an amazing outlet for me to use my experiences.
I had a bucket list trip to Israel fully paid for by a sponsor. Me and three of my pastor friends went on a trip of a lifetime.
My favorite band, Needtobreathe, came out with a brand new album. It's potentially my favorite one they have ever done.
My all time favorite band, dc Talk, decided to reunite, after a 15 year hiatus, on a cruise in 2017. They broke the news in 2016 and you better believe my wife and I bought tickets to said cruise.
My kids are freaking awesome! They started kindergarten and they are killing it. This has been a really fun year with the spoofers.
My wife is killing it in LuLaRoe. She has quickly moved up in the company and her hard work has brought in the extra money we needed to pay off the house debacle that happened in 2015.
My parents and in-laws are a very active part of our lives and they are both in great health.
God brought some new friends. This was an answer to prayer.
We hired a new staff member at church. I didn't know Levi until this year. Now, he feels like he's been a part of the church family for years.
Our house didn't fall a part. Our roof made it through 2016. That's a God thing.
Rogue One is an amazing Star Wars movie. In my opinion it was way better than The Force Awakens.
I set a bunch of new PR's at the gym. I can now squat more than my body weight. That's not easy because I've gained 50 lbs in 2016. But I'm going to focus on the weight I've been lifting at my amazing Crossfit gym.
I'm going to choose to focus on the great things that happened in 2016. I'm going to choose to learn from the bad from 2016. Even the bad is a chance for me to grow, so I'm going to chalk that up as a positive.
The undisciplined mind thinks about the worst of things. A disciplined mind chooses to think about what is best.
Finally, brothers and sisters, whatever is true, whatever is noble, whatever is right, whatever is pure, whatever is lovely, whatever is admirable—if anything is excellent or praiseworthy—think about such things. Philippians 4:8
What great things from 2016 will you focus on?