It takes work to pry information out of my kids. At five years old they don't have a problem talking, but they do struggle to share what went on in their day when mom and dad aren't around.
On Sundays I ask specific questions to see what they are learning at church. For whatever reason they struggle to give me specifics.
I often hear, "We learned the same thing."
or
"God."
Somehow my kids have already learned that when it comes to church God is almost always the answer.
I am not satisfied with this nonsense. I know there is more going on in their little heads than what they are giving me.
So on Sunday night I started asking Reese questions about church. She was struggling to remember. Now, granted, most adults have a hard time recalling the point of the pastor's sermon by Sunday night, so I'm not judging her. I feel it's important to not just go to a church service, but to apply what you learn, to think about it, and do something about it.
As I was asking her questions her twin brother, Hayden, was in his room and he excitedly told his mom something he remembered.
I could hear them talking, but my focus was on Reese. I don't know the extent of Hayden's conversation with Monica. What I do know is after a few seconds Monica yells out, "Rob, do you know anything about Joseph and the honey bear?"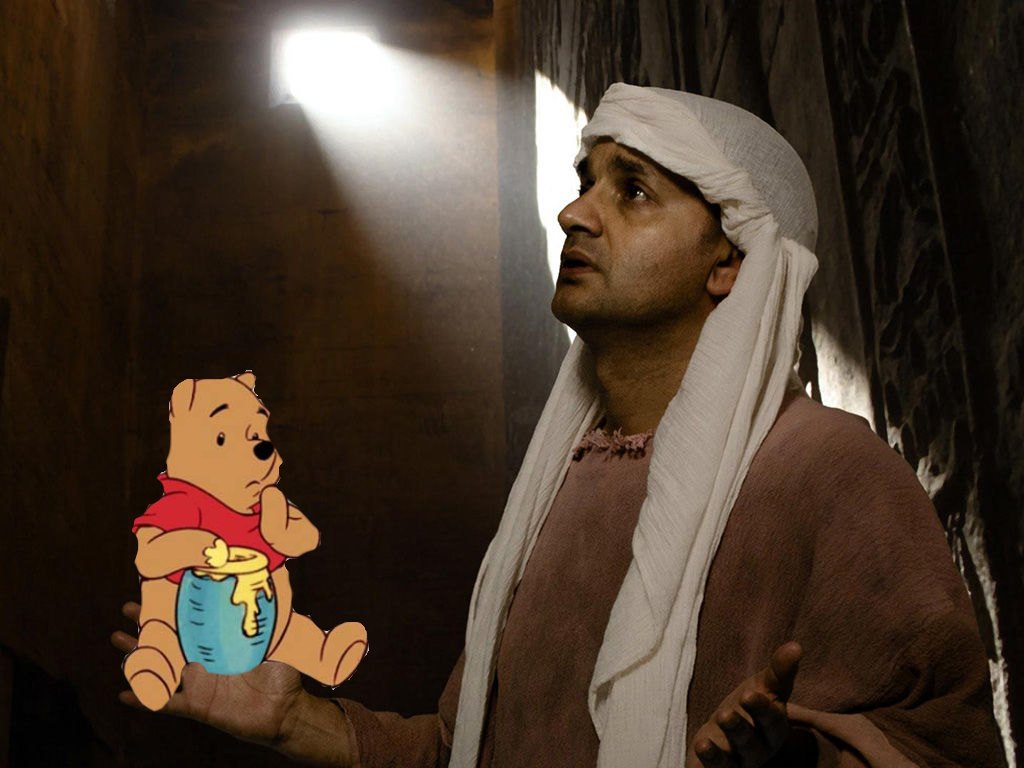 Um…
Hayden was a little put off that mom didn't know about this important story.
He said, "You know! The Honey bear, silly."
I started racking my brain. I struggle retaining all the stories from the Old Testament. I'm much better with the New. Joseph is from the book of Genesis, and he is a very important person in the story of God's people.
Joseph is wrongly put in prison for rejecting the advances of the wife of the Captain of the Guard. While in prison all hope seems lost, but God provides.
So I'm laying in Reese's bed trying to figure out about the honey bear.
I say, "Maybe they watched a cartoon in church and it was Veggie Taled out by adding cartoon characters."
Hayden was adamant, there was no cartoon. There was a honey bear.
I finally said, "The only people I know in the prison were Pharaoh's chef and cupbearer."
It didn't dawn on me what I just said.
Monica picked up on it instantly.
Cupbearer.
She said, "Hayden, did you learn about the cupbearer?"
Hayden: "Yes. The cupbearer."
Mystery solved.
There wasn't a honey bear. There was a cupbearer.
Have your kids ever messed up a famous story? What would help you remember what you are learning from church?