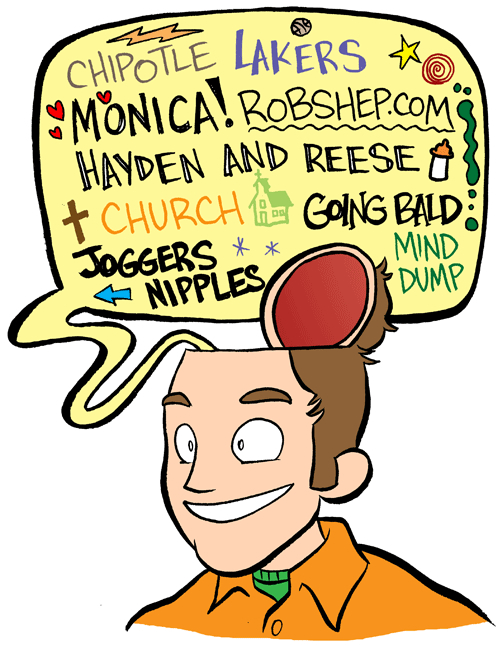 My brain is constipated with random thoughts. It's time to free up some space with another Mind Dump…
So Easter was Sunday. Easter is awesome! Easter is awesome but I feel like it's having a little bit of an identity crisis. Easter, you are not Christmas. You will never be Christmas. Instead of feeling jealous because opening presents is way cooler than opening eggs just embrace it for what it is. Stop trying to force gifts on us. Kids Easter baskets used to contain some candy. That was exciting. You have Cadburry Eggs for crying out loud. Now a days I see Easter baskets with presents in them. Toys! Blu Rays! What the what?!!!
Christmas is magical. Santa is magical. Sitting on Santa's lap means you get to tell him what you want for Christmas. Stop it with the Easter bunny. What are we supposed to tell the bunny when we sit on his lap? Granted I am too old to sit on his lap, but what are my kids supposed to say to him? He is supposed to hide eggs for us to find. Unless he starts giving clues to where these eggs are hidden then there is no point to sit on his lap.
My kids cried sitting on Santa's lap. The Easter Bunny is way creepier. Have you seen the pics of the first Easter Bunnies?
How are those kids not screaming? That is scarier than any horror movie Hollywood makes.
One of the things that makes Easter not as exciting is there are no great Easter songs. There are tons of Christmas songs. There are also no feel good Easter movies. Christmas has a whole section of amazing movies. Easter has the Passion of the Christ. That is an amazing movie but it's kind of…how should I say this…not one that you can watch with the kiddos. What's the Easter equivalent of Elf, Home Alone, A Christmas Story, The Santa Clause, or Die Hard?
So my point is that Easter needs to embrace what it is. A special holiday that has it's own unique traditions. It's not Christmas. As long as you keep trying to copy Christmas you are going to come off as an insecure holiday. You be you, Easter. You. Be. You.
Now for Christians Easter is more exciting than Christmas. As I was typing this post I could feel some Christians developing their comment to tell me that Easter is better than Christmas. It is when we are talking about a religious celebration.
I totally agree that churches should celebrate Easter more than Christmas. Both are amazing but Easter is the Grand Poobah of our faith. Easter is all about the greatest comeback in the history of comebacks. Jesus is alive! Whooo!
Needtobreathe released their newest album last Tuesday. It's called Rivers in the Wasteland and it's glorious. I love this album! I love all Needtobreathe albums! This one did not disappoint. My favorite songs so far are Rise Again, Difference Maker, Where the Money Is, and The Heart.
Tuesday was also tax day.
I tweeted the following to my wife. "@Monicashepherd, girl your the whole package plus you pay your taxes."
She replied,"@robshep That made me laugh. If only you used the correct homophone, you'd have really got me going! Ha!"
To which I replied, "@Monicashepherd, girl you're the whole package plus you pay your taxes.
I heard that lyric from a B.o.B. song. It made me laugh because it was tax day.
I feel like I live in two very different worlds. There is the online/blogger/Twitter world and the real world. The online world seems to be very connected. They seem to get worked up about the same issues. They seem to get passionate about the same stuff.
I get off my computer expecting the real world to be just as worked up and the vast majority of my real world friends don't have a fat clue what the online world is doing.
Last week I had three conversations that proved this. Someone who sponsors multiple kids through World Vision didn't have a fat clue about all the drama that went on a few weeks ago. A friend of mine said he was a big fan of a pastor who has recently gotten into some trouble for paying to get his book on the New York Times best seller list. I assumed he knew about the controversy. It was all over the Internet. Nope. Same thing happened when a guy told me he went through the home schooling program of a leader who has recently been in a lot of trouble. He didn't know about that.
So here is my question. For people that do not get online a lot how do they get their information? You probably won't know because you are online. Ask someone who isn't. I'm curious.
This has to be rigged. It's the worst Wheel of Fortune contestant in the history of Wheel of Fortune contestants.
Whew…I feel better now