Ever so often I hear people say, "I don't know if I want to bring kids into this world. It's gotten so bad."
I also see people post this on Facebook on a very regular basis, "What is this world coming to?!"
I apparently have a lot of fortune teller friends on Facebook because I also see declarations of the end of the world on a regular basis. What's the cause of such declarations? It's various insane things like weather, Obama, and Twinkies going out of business (granted they came back but they did leave us for a hot minute).
I don't know if it's because of reruns of Leave It To Beaver, the Cosby Show, and or any other wholesome family from TV past but when people make those statements they imply that the world has gotten worse.
Has it really?
At one point there was such a fear of gas attacks that this was a real invention…
Yes that is for a baby.
Have you ever heard of the Chicago Race Riot of 1919? A young black man, Eugene Williams, paddled into a white only section (WHITE ONLY SECTION…Do WHAT) of Lake Michigan and was drowned after he was hit by a rock thrown from a white man standing on a bridge. When a group of African Americans reported it to the police they ignored it and the riots started when a mob of African Americans attacked the police officer. From there things get crazy. White mobs attacked African Americans riding on trolleys and beat them with baseball bats and iron bars.
Attacks on schools seem to be a modern thing but the worst attack on a public school happened in 1927. A former school board treasurer bombed a public school and killed 43 people.
Think America is a scary place to live now? Today has nothing on the 1960′s which included…
The Cuban Missile Crisis – a 14 day stand off almost lead to a nuclear war.
JFK, Martin Luther King, Malcolm X, and Robert Kennedy were all assassinated.
Multiple riots including…
Nothing says America like attacking another American citizen with the American flag. Sense the sarcasm.
Do you think that there is negative peer pressure for kids today? Well, Fred Flinstone and Barney used to take smoke breaks while their wives did all the house work.
Think college kids today are way  more Jersey Shore than academic? On March 2, 1952 on the University of Michigan close to 600 men stormed a woman's dormitory with the sole purpose of stealing their undies. This became a trend known as panty raids. alkfja. That word is gross and causes me to spaz as I type.
I've heard some blame Hollywood for how crazy our world is. Um…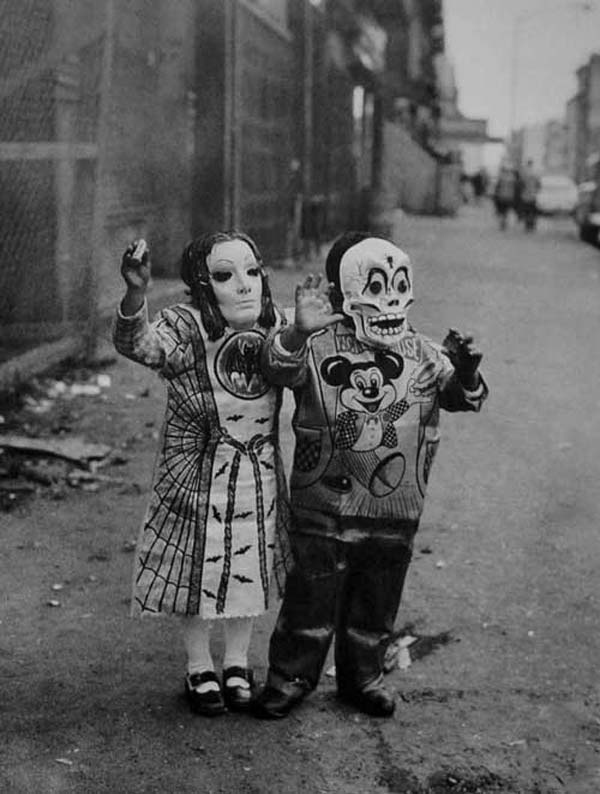 That's scarier than anything Hollywood has come out with in the last ten years and apparently it was just a typical Halloween night.
Think people were innocent way back in the day? I received a complete compilation  from the 1950s Superman comic strip that ran in the newspapers. It contains this interesting panel…
Can you even imagine the outrage if that comic was published today?
So what's the point of all this?
The point is that as long as their have been humans there has been bad, crazy, end of the world type events.
Humans are bad.
They always have been.
We aren't getting worse. We've always been capable of all kinds of evil.
Today is not worse than when Hitler was in power and ordering the holocaust. Today is not worse than the wild west when they would publicly hang people. Today is not worse than when notorious gangsters like Al Capone ruled the streets.
Today people are still broken, hurting, and in desperate need of Jesus. So often Christians pull out of society because it's "getting worse" and then it's no wonder things actually get worse. Christians are called to shape the culture. To influence. To make a difference. To be in the world and not in a holy huddle.
"Here's another way to put it: You're here to be light, bringing out the God-colors in the world. God is not a secret to be kept. We're going public with this, as public as a city on a hill. If I make you light-bearers, you don't think I'm going to hide you under a bucket, do you? I'm putting you on a light stand. Now that I've put you there on a hilltop, on a light stand—shine! Keep open house; be generous with your lives. By opening up to others, you'll prompt people to open up with God, this generous Father in heaven." Matthew 5:14-16 (The Message)
Have you ever felt like times are worse today? Why is it so hard for Christians to be the light of the world?