Before I had kids I really looked forward to the day where I could take my kids to the movie theater. Movies was and is my thing that I do with my dad. One of my favorite parts of the holiday season growing up was going to a movie with dad and siblings on Thanksgiving and Christmas day.
I say all that to say that the second my kids were born I was calculating just how long I'd have to wait to take them to a movie.
This past March they turned two and I knew that by the summer of 2014 I would be able to take my kids to a movie.
Well, maybe it's because my kids are incredibly gifted. Or maybe it's because we watch movies together as a family at home. Or maybe it's because I just couldn't wait any longer, but we took our kids to their first movie experience this past Friday.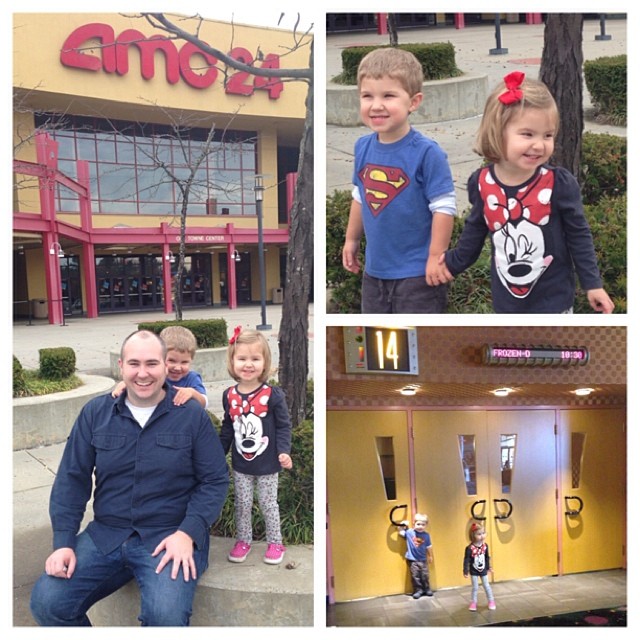 Kids two and under are free and we had a gift card. We had heard a lot of good things about Disney's Frozen. We did a little research to make sure it really was kid friendly. As much as we love Disney many of their films feature really scary bad guys. I may or may not be really sensitive to this due to the fact that my first movie experience was at the age of 4, and we saw Snow White in the theaters. I still remember crying in shear terror out in the lobby after seeing that queen turn into the scary old lady. I didn't want my kids to have that same experience.
Frozen doesn't feature a scary villain. In fact there isn't really a true villain in most of the film. From that perspective it was very different than most of the classic Disney movies.
Frozen started off a little slow but eventually found a way to help you fall in love with a couple of the key characters. Namely Anna the princess and a very funny snowman named, Olaf.
Frozen is funny, has some catchy songs, and is very entertaining. I wouldn't put it in the same league as Pixar films but it's fun for all ages. In fact it not only kept my kids attention it left my son saying, "I want more movie" as soon as it ended." That to me is priceless.
Frozen is rated G for a somewhat intense snow monster, the eluding to of a parents death, and shirtless family in a sauna. I gave it two thumbs up and I couldn't get my kids to understand how to do two thumbs up so they are just doing their thing.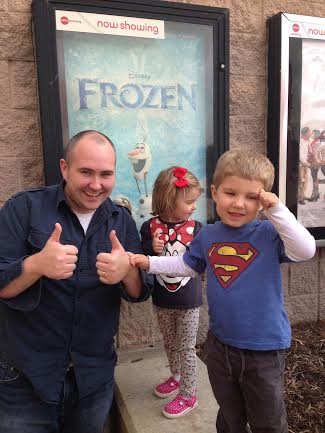 Two Thumbs Up – A great movie worth paying full price.
One Thumb Up – A decent attempt and worth seeing at a matinee price.
Thumb to the side – An ok film, but wait for video.
Thumb down – A stinker of a film. Don't waste you life seeing it.