In 2005 a self published book told of how Santa keeps track of how kids are naughty or nice. Santa, unlike God, is not everywhere. He's in the North Pole so he needs the Elf on the Shelf.
In 2011 it was made into a cartoon that aired on CBS, and now the Elf on the Shelf has taken over the world.
The idea is that every morning kids wake up and find the Elf on the Shelf doing some mischievous thing.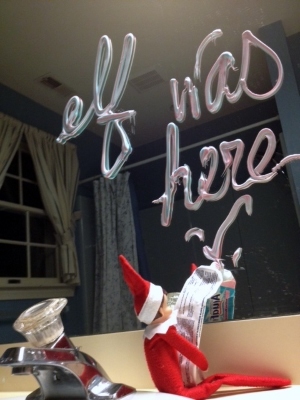 It let's the kids believe that the Elf is alive and helps spread the lie that he's watching their behavior. Some say it's harmless fun. Some say it's from the pit of the Devil.
I say the Elf on the Shelf has nothing on Krampus.
Krampus is the opposite of St. Nicholas. St. Nicolas brings good kids gifts from his bag. Krampus is a demon like creature from German folklore that kidnaps kids who have been bad, puts them in his sack, and carries them to his lair.
How horrifying is that?
Now I wonder how affective Elf on the Shelf and the much scarier Krampus are?
Humans love to rule things by fear. Military men have ruled by fear. Pastors have lead by fear.
This is why the church resisted allowing the Bible to printed. They were afraid of what would happen if the common folk got their hands on it. It might take away from the churches rule.
This is why churches banned things like rock n roll, alcohol, and having fun. The church is afraid that people will go crazy into sin so we've lead by fear.
The problem is that eventually fear wears off. I wonder how many really bad kids became good adults because they were scared by Krampus?
I think this is why people say things like, "You can't lie! You are in church." It's as if our behavior has to be different at church than it is outside of the church for fear that God will strike us dead.
I don't know about you but I want my kids to obey not out of fear but because they understand it's best. And I want the people of my church to act the same outside of church as they do inside.
Fear only goes so far.
Love drives out fear.
I want my kids to obey even when I'm not looking. I want my kids to obey 12 months a year and  not just one month.
Ultimately I want my kids to obey because their heart has been changed by God. I want the same thing for my church.
I want people to obey God because they have been blown away by his love not scared to death by fear.
"Fear is a great motivator but an awful master." – Rob Shepherd.
Did I just quote myself? Yes. I did. Quotes seem to stand out more to people so I threw it down.
My point though is that fear can motivate people for a little while but it's a horrible master. I don't want to lead my kids, or my church with fear. I want to lead with love. Love that inspires them to love Jesus and thus obey.
Did you celebrate Santa and or Elf on the Shelf with your kids? Why do you think so many people use fear to motivate people?