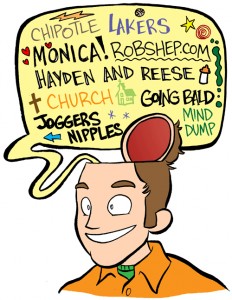 My brain is constipated with random thoughts. It's time to free up some space with another Mind Dump…
Did you watch Nik Wallenda walk on a tight rope across Niagra Falls?
2 thoughts. First thought: that special should have been called evangelism for the year 2012. Nik talked about Jesus and God a lot. It is very evident that he is a Christian.
Second thought: I want to see Nik take on Wipe Out. I'd like to see how he'd do going up against those big balls.
Did you see Promethius? I saw it and it didn't make a lot of sense to me. I'm still processing that movie.
Everyone complains about getting old, but there is one thing that I think old people should be celebrating. Hairless legs. Have you ever seen an old dude's legs? They are like a hairless cat. I hope the same thing happens to old guy's backs.
I've been jogging the Noland Trail recently. It's 5 miles of awful. I have a few thoughts about jogging this trail…
I don't know how some people smell good on the trail. I sweat. I sweat stank. I pass people and they smell like they are going out on a date.
I don't get people who smoke and exercise at the same time. I've seen this a few times and it seem anti-productive.
My last time on the trail I smelled skunk. Nothing gets you motivated to run fast like the smell of skunk. Not even the really sketchy guy who looked like he wanted to man-nap me motivated me to run as fast as the smell of that skunk.
I feel a little judgmental looking at another human being and thinking that they look sketchy. There are certain beards, clothing, and glazed over looks that just don't belong if you are not trying to be sketchy.
Have you been listening to The Courtesy Laugh podcast? It's basically the Presidents Park of bloggers doing a funny podcast. Now if you don't live in the 757 then you don't know what the Presidents Park is. Here you go…
It's not Mt. Rushmore but it's still full of AWESOME!
If Pastors had highlights that were played on a network like ESPN then I think I would have made the top ten highlights two weeks ago. I'm not bragging but I definitely had my Jordan Gatorade moment.
Do you remember Jordan's Gatorade moment? It's when he played awesome despite having the flu. Well, I can't say that I'm awesome but I can say that I preached my face off while having strep throat. We didn't have Gatorade on tap so I was powered by the Holy Spirit and lemonade. We serve lemonade each week and it's tasty.
When I got done preaching I was spent. I didn't know I had strep throat until I went to the doctor the next day. When I went to the doc she said, and I quote, "oh, yikes, you poor thing." She then put me on drugs before she even took a strep test. Oh, and the strep test came back positive at a record speed.
If pastors did have an ESPN type network what would it be called? I vote for EPPN or Everything Preaching Programming Network. It would feature highlights of all the different preachers around the world. They could even have preach offs where pastors could debate one another.  Breaking news would be pastors who got caught in a scandal, preachers changing churches, and Joel Osteen being caught frowning on camera.
There are many advantages to moving back in with my parents. At the top of the list is a stocked fridge of Gatorade to consume after a jog.
The other night our printer went off for no reason. It was 3:45 AM and it scared the poo out of me. It printed an old document that Monica had printed a week before. All of our computers were off and there was no reason for that thing to print. Who ya gonna call? Ghostbusters.
In the future phones need to share smells. It's the next step in awesome. It would make Pinterest that much more addicting.
On Saturday we went to Costco and it was glorious. I don't know if they were prepared for people coming to shop for Father's Day, but they had the greatest samples in the history of samples. I ate Steak, BBQ, guac with chips, pizza, mini snickers, a shot of a protein shake, a cheeseburger pita, some humus among us, something with potatoes and cheese and it was awesome, and smoked ham.
We saw one guy stocking up on samples. He wasn't eating any of them. He was carrying them. We don't know what he was doing. Our theory is that he was stockpiling them to bring to a table to eat for lunch.
I'm pulling for the Thunder to win the finals. It's not because of a hatred for Lebron. I actually like Lebron. If Michael Jordan and Magic Johnson had a kid it would equal Lebron. He's gifted. The reason that I'm pulling for the Thunder is because if they win the Lakers still win.
You see if my team loses to the champs then at least we lost to the champs. It's still a moral victory. At least that's how my mind works.
Office desks have over 400 times more bacteria than toilet seats.
So I don't work for Chick-fil-A. I work from Chick-fil-A. They have free wi-fi and they don't leave their stink on me like Starbucks or Subway do. I enjoy working from there because it gives me a chance to connect with people. I can't connect with people while working at an office by myself.
I do see a lot of people getting milkshakes. In fact I see a lot of people getting milkshakes with breakfast. I think that 11:00 AM is the earliest I'd want a milkshake. When do you think it's too early to get a milkshake?
Have you ever walked in the door of your home only to realize that your zipper has been down since your last bathroom break? That happened to me the other day and I had multiple meetings between my last bathroom break and walking into my house.
Lucky for me I wear my shirt tail out so I think I was covered. I wouldn't want anyone to know that I wear superhero underwear.
Whew…I feel better now.