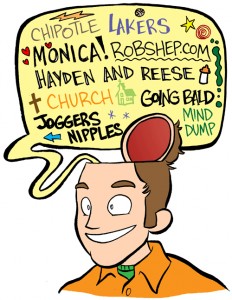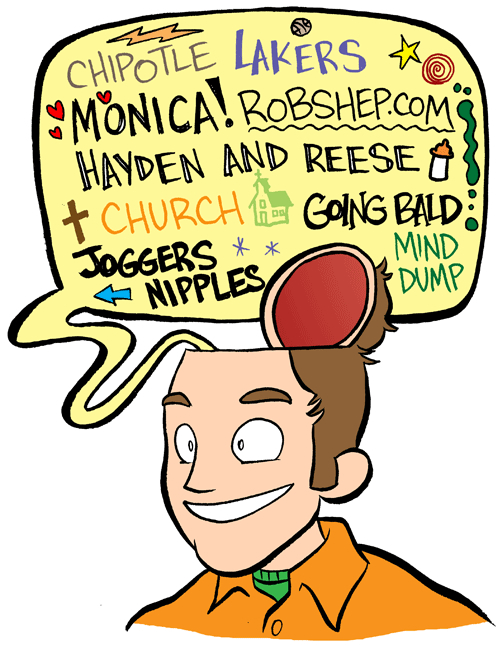 My brain is constipated with random thoughts. It's time to free up some space with another Mind Dump…
Why did the phrase "pain in my butt" come about? I know what it means but have you ever had a pain in your butt? It can't be nearly as bad as lower back pain, a headache, kidney failure, or a pain in your stomach. I think from now on if someone is getting on my nerves I will simply say they are being a pain in my lower back. Everyone will understand just how bad that is.
I really enjoy reading my wife's blog. She's funny and has way better grammar than me. If you are interested in checking it out click here.
The winner of the Great Cereal Debate is…a tie. Do what?! Lucky Charms and Frosted Flakes tied with 13 votes a piece. The biggest surprise was there was also a tie for third place. Honey Nut Cheerios and (this next one is shocking to me) Life tied for third. This was supposed to end all debates on the greatest cereal of all time. We can't have it end in a tie. So right here and right now we are opening a new poll to declare an official winner. Vote for your favorite between Frosted Flakes and Lucky Charms.
I failed at the great cereal debate poll. I created it no less than 10 times and whenever I would put it on my blog it would only have five options. On about the 11th time I finally realized that there was a save button to the right of the poll. As Homer Simpson would say…
When I finally figured it out I was late for a meeting and had to rush. In order to get it done I ended up leaving off some great cereals. Raisin Bran and Raisin Bran Crunch were on the original poll but left off the one for people to vote on.
Lucky for me I figured out how to add Raisin Bran and his crunch counterpart to the blog. It was a little late but I still got them on there.
My kids have lots of great tricks. They both are really funny. The problem is getting them to preform said tricks for other people. My kids often make me look like a liar.
I've updated some things on the blog. If you  haven't looked at them in a while you should check out  the About Me, Cast of Characters, and the all new Rob's Dictionary tab.
One thing that I forgot to mention in Monday's post about the half marathon was how weird it was to have strangers chant my name. My friend Ryan and I kept hearing people say "Go Ryan! Go Rob!" It took about three chants and for one guy to say "Go Ry!" before we realized that our names were on our running numbers pinned to our shirts.
"Whenever you correct someone's grammar just remember that nobody likes you." Jim Gaffigan.
I really like Jim Gaffigan. We have a couple of his comedy CDs and he makes me laugh. He's a little strange but he's pretty clean. That's hard to find in a comedian. In fact I think that it shows true comedic genius if you can be funny without being crass or having a potty mouth.
I guess that's why there aren't many great Christian comedians. I kid, I kid.
I actually really like Michael Jr. and Brad Stine.  They are both funny men who love Jesus.
Needtobreathe is my favorite current band. I say that so that dc Talk doesn't think I'm cheating on them. dc Talk is my all time favorite band. Anyway, Needtobreathe was in DC and then Lynchburg recently. I couldn't go see them in DC because I was in the OBX for my half marathon. I was this, and when I say this I want you to put your thumb and pointer finger really close together, but don't make em touch, close to going to see them in Lynchburg. It's 3 1/2 hours away if you speed. The concert started at 8 so I would have had to leave at 4 or 4:30 to avoid traffic and get there on time. I hadn't seen my kids all weekend because of the race and I just couldn't miss seeing putting them to bed again. I'm hoping they come back around here soon.
Speaking of favorite bands dc Talk is probably getting back together. I can't confirm this but I follow Kevin Max (from dc Talk) and he keeps dropping Tweets about the other guys in dc Talk. For example…"stopped by officer not yielding at a stop sign, recognized & let go-Tait stopped by same cop later on- 'I'm just waiting for the other guy'" Okay what does that mean. dc Talk is Tobymac (the other guy), Michael Tait, and Kevin Max. I don't get his Tweets like this but it makes me believe that they are up to something.
This summer might be the greatest summer of movies ever. There have been some good ones out there. I remember 1989 and seeing Batman and Indiana Jones and the Last Crusade in the same summer. Those are still two of my favorite movies of all time. I remember the summer of 2008 with the Dark Knight and Iron Man. Two more of my all time favorite movies. I remember 2005 with Batman Begins and Star Wars Episode III. See what all these summers have in common?
Batman! A great Batman movie can make an amazing summer. I'm hoping that the newest installment doesn't disappoint. This summer we have The Dark Knight Rises, The Avengers, a brand new Spiderman, The Expendables 2, a G.I. Joe movie that promises to be an apology for the first movie with that name, and a new Step Up! Wait. What? How are they still making Step Up movies? I have never seen one of those and I don't care to.
One problem that I have though is that my day can be ruined by a bad movie experience. When I saw Indiana Jones and the Kingdom of the Crystal Skull I was furious. I was so mad that I went back to see it a second time to see if it was really as bad as my first experience. I also remember being really excited for X-Men 3 and leaving a midnight showing being so upset that I couldn't sleep. I remember convincing myself to like Superman Returns because of my love for Superman. Only to watch it again and see how boring of a movie it really is. Don't judge me. I'm a work in progress. I just love movies and I want this summers movies to deliver. My hopes may be too high.
My daughter might have my sense of humor. She likes to make fart noises with her tongue and then laugh. It's really cute and funny.
Costco is amazing! They give out free samples. FREE! Although they need to always have free samples because when they don't it makes me feel like I've been cheated. I'm so spoiled.
If I had a Kryptonite it would be getting dirty. I hate it. I think that's ultimately why I hate going to the beach and camping. I can tolerate it for a few minutes but then the thought of going to the insanely scary bath houses at campsites or the insanely gag nasty public restrooms at beaches makes me shiver.
I am keeping track of how many times I eat at Chipotle this year. It's up to three this week. I got a gift card and I figured I should use it. I love Chipotle!